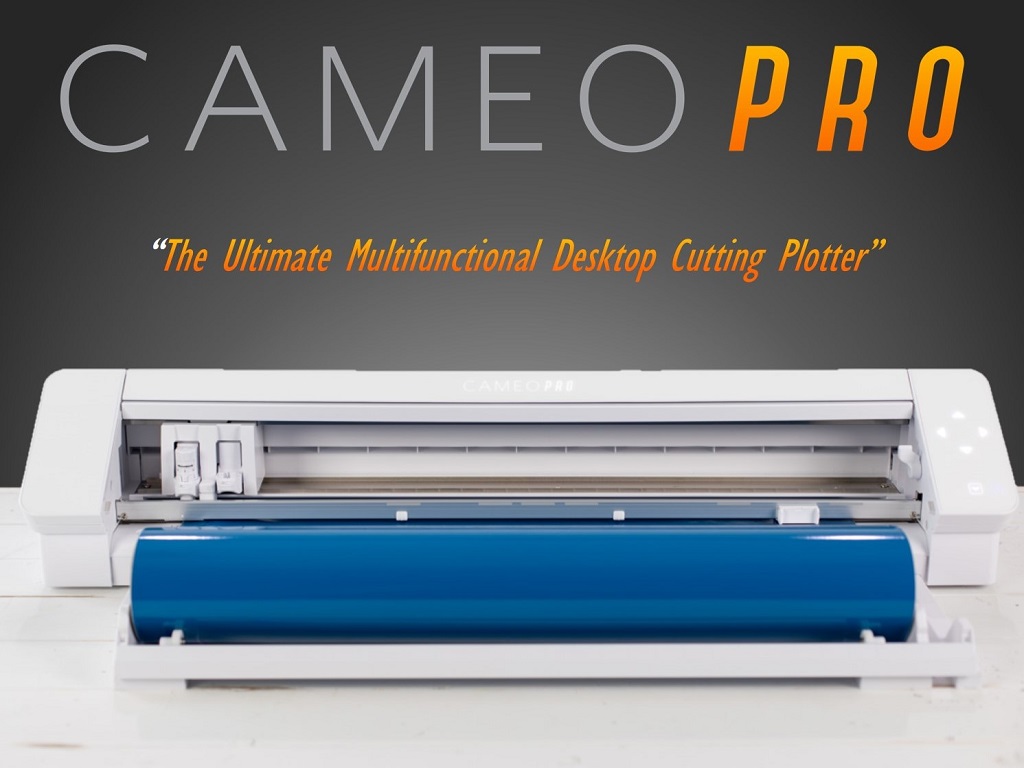 The Silhouette Cameo 4 Pro is the new feature packed natural successor to the popular but now discontinued Graphtec CE Lite-50 cutting plotter and will be available in the UK initially in limited numbers from the start of December. 
The Cameo 4 Pro is a multifunctional desktop cutting plotter and is the widest Cameo model that Silhouette have ever developed and is perfect for cutting both rolled and sheet materials alike.
This machine has the capacity to not only kiss and die cut standard adhesive vinyl, HTV and cardstock, it can also be used to cut materials such as Fabric inclusive of spandex and leather sing the additional Rotary Blade as well as solid rigid type materials such as balsa wood when the 3mm Kraft Blade is installed.
The Pro is perfect for a smaller workspace environment but with a dual tool head, 610mm (24″) cutting width and up to 5kg of head pressure this machine can be used to augment the production outputs of established print rooms, it really is the ultimate desktop cutting.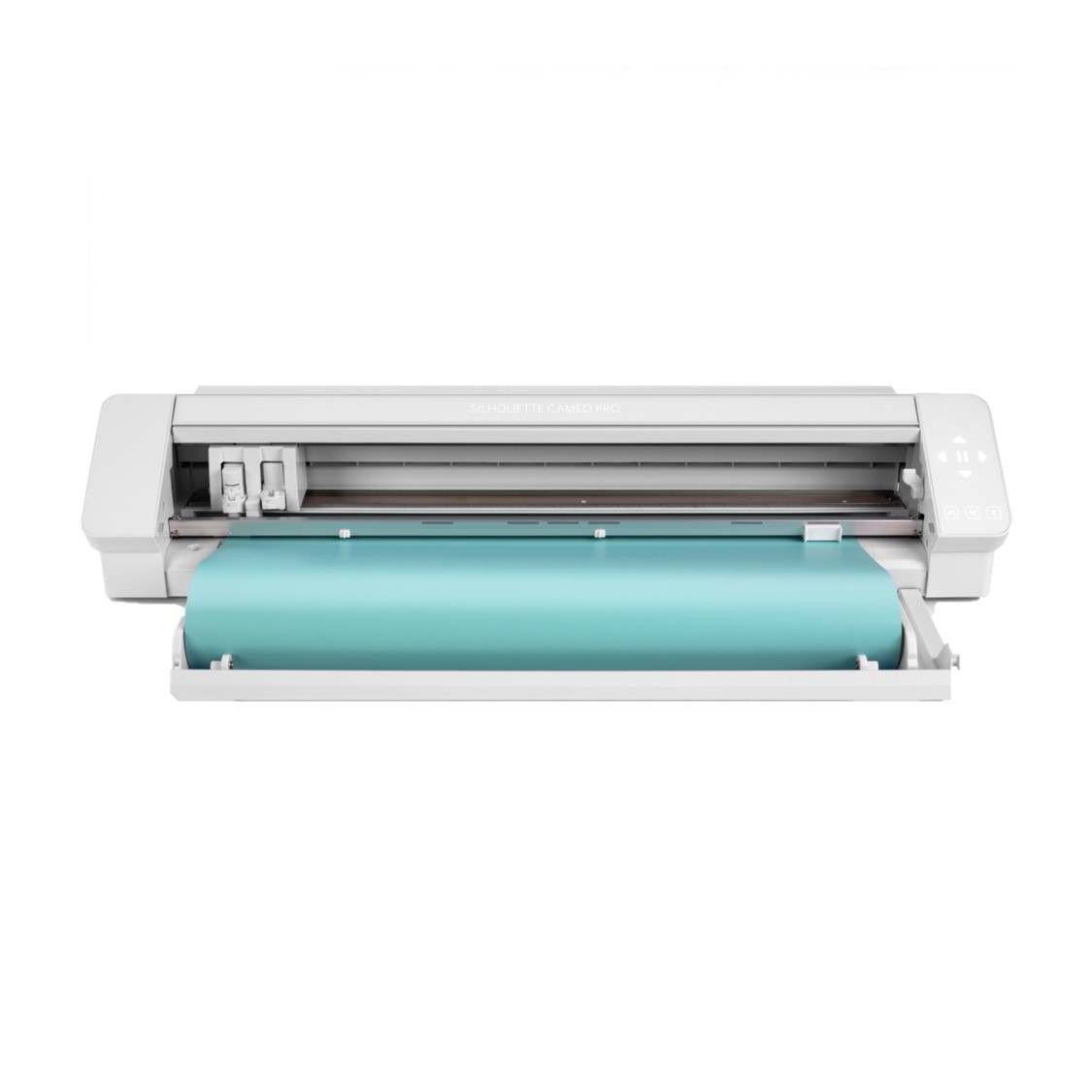 If you are looking for a cost effective way of increasing the capabilities of your workspace or even add an extra machine to expand your output for a cost effective price point then the Cameo 4 Pro really has it all. 
The Cameo 4 Pro is predominantly aimed at people who are looking to take the next step from part time, maybe even moonlighting work, to make their hobby their full time job.
The Pro comes in at a more economically friendly price point than many commercial grade cutting plotters on the market but with the added benefits of supplying functionality this is not available on commercial grade machines which is extraordinary for the price point.
• 610mm (24″) Cutting Width
• Up To 5KG Head Pressure (Tool Slot 2)
• Dual Tool Head With Automatic Tool Detection
• Print & Cut Registration Mark Sensor
• Matless Cutting Capabilities
• 3mm Head Clearance & Cutting Depth*
• Includes Adjustable Roll Feeder & Mat Support
• Built In, Manually Operated Cross Cutting Blade For Clean Sheet Off
• USB 2.0 Wired & Bluetooth Wireless Connectivity
• Includes Silhouette Studio Basic Edition Software
*3mm Cut Depth Available When The 3mm Kraft Blade Is Installed In Tool Position 2. Optional Accessory, Not Included As Standard.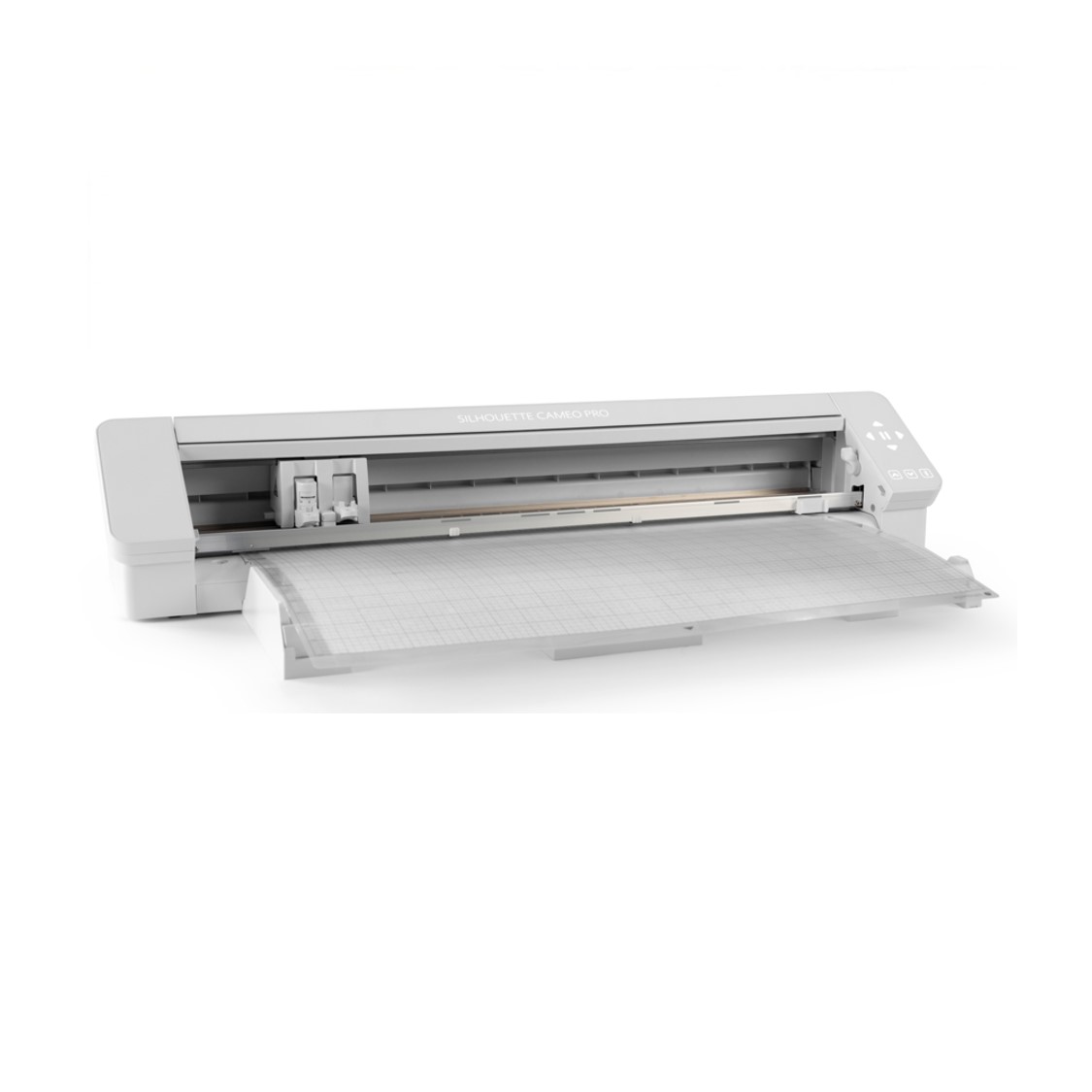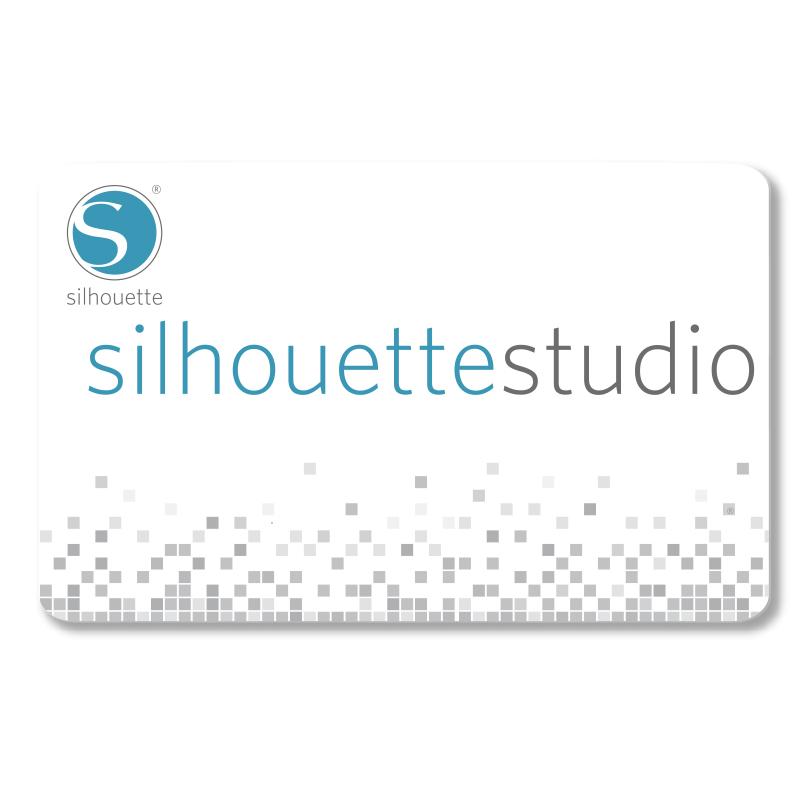 The Cameo 4 Pro comes as standard with the Silhouette Studio software package which can be upgraded to open extra features as and when needed by the user without the need for a subscription fee.
The software is one of the most intuitive and easiest to use on the market and works even when your machine is offline.
The software is a full featured design software suite which also allows you to adjust the settings and drive the Cameo 4 Pro all from the same screen.
Box Contents & Additional Optional Accessories