Silhouette's range of powerful and versatile desktop cutting systems are perfect for home craft enthusiasts through to small business owners alike. These machines are perfect for processing a wide range of materials and are a multi-functional media processing machine capable of cutting, drawing, writing & sketching.
Graphtec GB are the official supplier for:
Silhouette Machine Consumables
Silhouette Accessories
Silhouette Media
Silhouette Software
About Silhouette
Silhouette are a global brand specialising in high performance, simple to use desktop craft cutters.
Silhouette not only produce desktop cutters, they also produce a wealth of media and consumables to support all aspects of the craft market. From scrapbooking through to 3D printing, Silhouette has a media or machine to keep your projects fresh and exciting.
Silhouette's range of market-leading craft cutters originally began life as the much loved Graphtec Craft Robo machines before joining forces to further cement this established brand as a global player within the craft and hobbyist sector.
Silhouette also offers a rich library of some of the industry's most powerful design applications, such as Silhouette Studio®, as well as a variety of other supporting products related to the crafting industry within the Silhouette Design Store.
Our Obligation To You
As the UK & Ireland's Official Silhouette Importer & Distributor we not only supply the equipment, we look after both the equipment and end users alike.
With over a decade of Silhouette expertise at hand, we look after all of the warranty and technical support requirements for the machines whether they have been supplied to the end user via ourselves or through our dedicated network of official UK resellers.
Our technical support team are able to support you over the phone and via email to help you:
Get Started With Machine
Technical Support With Your Machine & Software
Machine Servicing
Warranty Support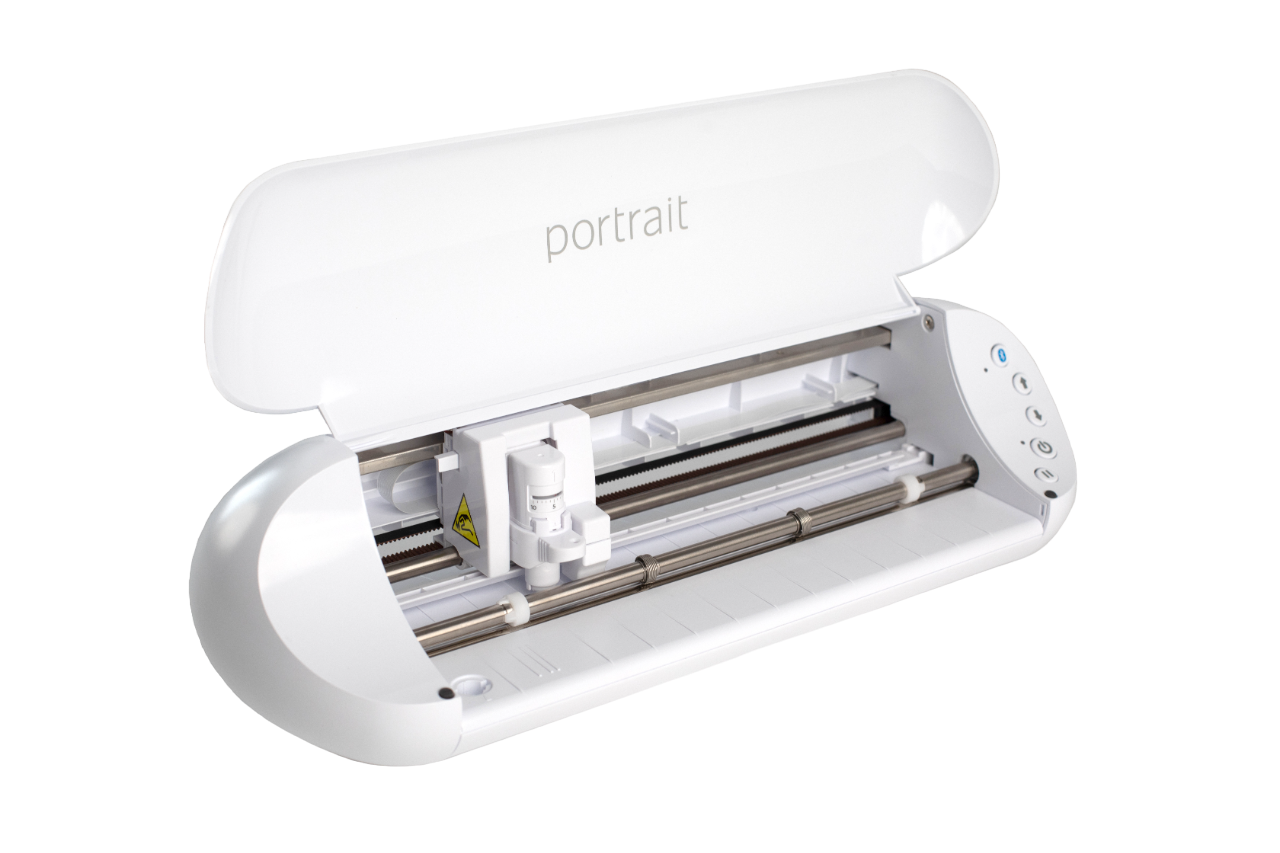 The Portrait is a compact and lightweight digital cutting and drawing tool which is perfect for both on-the-go creators and users who have smaller work spaces.
With automatic blade detection, bluetooth wireless connectivity and an intuitive software package, the Portrait 3 is powerful way beyond it's compact size.
Portrait Key Features:
Main Functions: Cutting | Drawing

Machine Width: 8″

Lightweight & Portable

New Silhouette AutoDetect Autoblade Compatible

New Automatic Tool Detection Feature

New Matless Cutting Mode

2mm Cut Depth Capability

Wireless Bluetooth Connectivity

PixScan Compatibility For Print & Cut Jobs

Perfect For Small Work Spaces & On-The-Go Crafters

Compatible With Both Windows & MAC Operating Systems

Silhouette Cameo 4 Series
The Silhouette Cameo 4 digital desktop cutting tool offers the user a plethora of different cutting options to create a near endless amount of projects.
The Cameo 4 is availble in 3 format widths (12″ | 15″ | 24″) and comes equipped with easy to use and intuitive software, roll feeder and bluetooth.
Cameo 4 Key Features:
3 Options: Cameo 4 (12″) | Cameo 4 Plus (15″) | Cameo 4 Pro (24″)

Main Functions: Cutting | Drawing

3 Colours: Cameo 4 12″ – White | Blush Pink | Black

Cutting Force Of Up To 5kg

Bluetooth Wireless Connectivity With Increased Range

PixScan Technology

Matless Die Cutting

Built-In Roll Feeder

Built-In Vinyl Crosscutter With Media Securing Clamp

3mm Head Clearance For Thicker Materials

New Tool Compatibility (Rotary Blade | Kraft Blade | Punch Tool)
Get the latest news and offers direct to your inbox