At Graphtec GB, we are the Official UK Importer & Distributor for Graphtec, Silhouette and Brother ScanNCut products.
If you are short on space then opting for a desktop sized digital cutting system is the perfect choice.
Even though they might have a smaller footprint, these machines pack a huge punch in terms of functionality and can process a wide range of materials from adhesive vinyl through to leatherette and even soft balsa wood in some instances.
Read on to learn more about our choice of desktop cutting systems.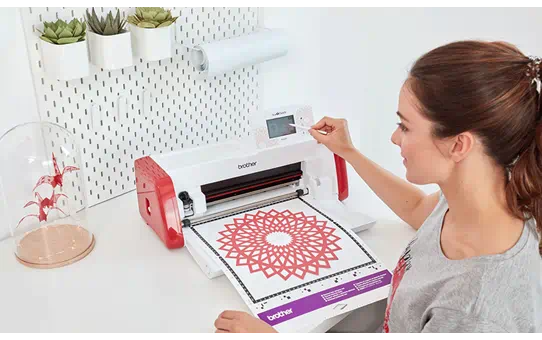 What Is A Desktop Cutting System?
These systems are compact versions of commercial grade cutting plotter systems but can be more versatile than their larger counterparts.
Desktop cutting systems use the same technology found in commercial cutting plotters as they work on twin axis technology to create the designs. The X axis is where the machine moves the media from front to back, the Y axis is where the cutting head moves from left to right.
Due to their compact size, these systems easily fit onto a standard desk workspace, some (such as the Silhouette Portrait) are even designed to be portable which is great if you like to work on-the-go.
We supply desktop cutting systems from Graphtec, Silhouette and Brother ScanNCut.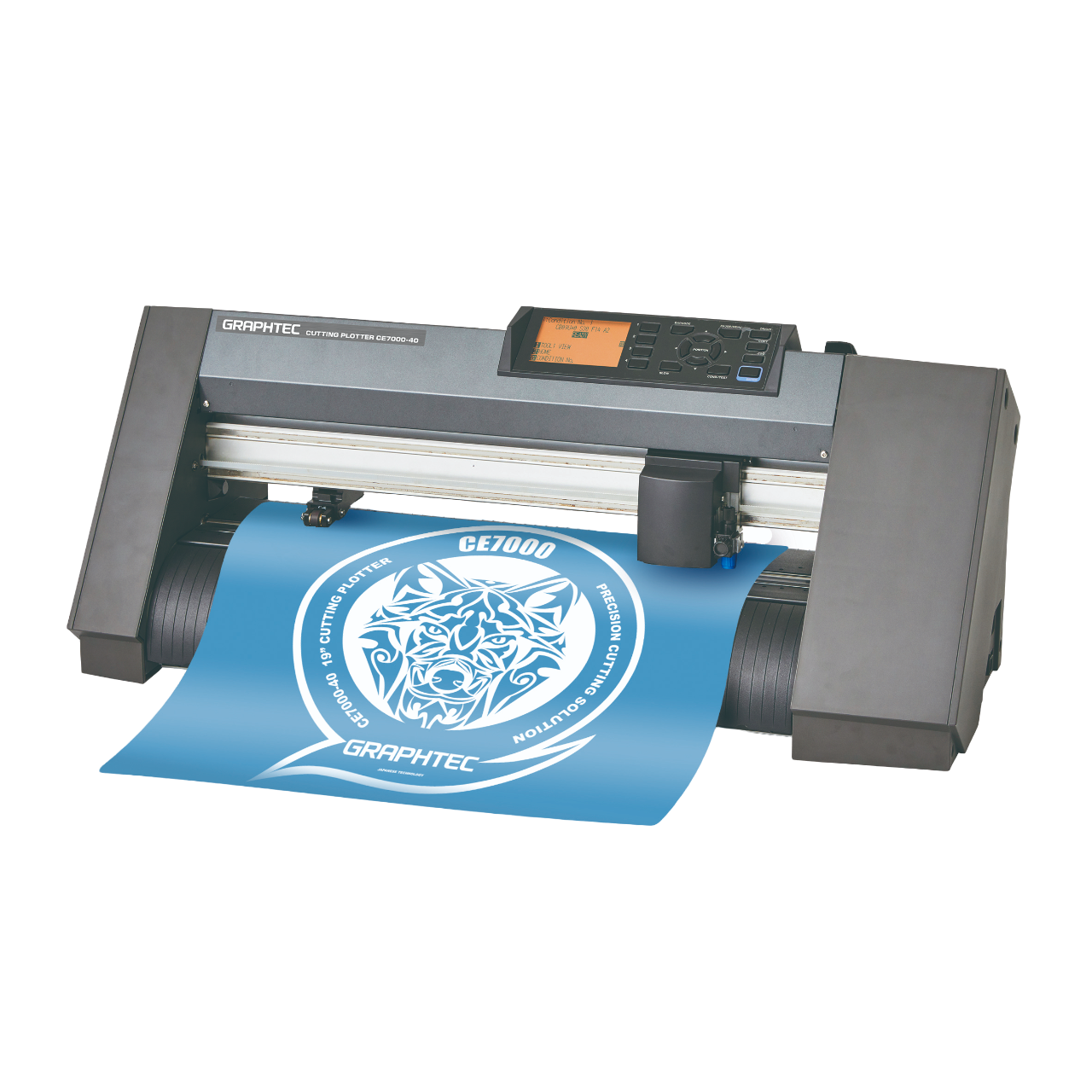 Graphtec Desktop Cutting Systems
If you look into the Graphtec CE7000 range you will find two dedicated desktop options for desktop cutting requirements as both the CE7000-40 and CE7000-60 come in a compact desktop friendly size.
The CE7000 is a perfect for quickly and quietly cutting materials such as:
Adhesive Vinyl
Heat Transfer Vinyl
Thin Card
Paper
If you are a small business looking to increase output then the extended repeatability of up 2m puts the CE7000 out front for cutting longer runs of bespoke and personalised items such as:
Personalised Clothing & Upholstery
Signage
Bespoke Packaging (Wedding Favours)
Print & Cut Labels / Stickers
Silhouette Desktop Cutting Systems
Silhouette offer two different machines when it comes to desktop cutting systems, the compact and portable sized Portrait or the desktop native Cameo.
Silhouette Digital Cutting Machines are operated via the use of the included Silhouette Studio Software package. The machines can be operated without the software using the Silhouette GO App but in order to make the most out of the machines, the are best operated from a computer or laptop.


The Silhouette Portrait is built around media that is natively A4 sheets or rolls of material that are no wider than 9″ and has an 8″ max media processing width.
The Portrait is fantasic for users who want to be able to take their machine with them or who need to be able to easily store it away when not in use.
The Portrait's single tool carriage gives users the ability to both cut and draw / sketch.
The Portrait can often be mistaken as an "Entry Level Machine" but when used correctly it can provide the user with a lot more functionality than that.
Should you opt to upgrade the included Silhouette Studio Software package to the business edition, you can run multiple machiens at the same time allowing you to start to mass produce makes, perfect for small or start up Etsy or Shopify creators.
Popular Materials Cut On The Portait:
Adhesive Vinyl
Card Sheets
Sticker Papers

The Cameo is a multifunctional digital cutting tool which can cut a wealth of materials and is available in 3 different model widths: 12″ Standard Model | 15″ Plus Model | 24″ Pro Model
The Cameo boasts 2 different tool holders for carrying our different types of jobs. Tool chamber 1 is specially for cutting standard materials whilst tool chamber 2 is for using specialist tools to cut thicker materials up to 3mm thick.
The Cameo is best suited to desktop users and includes a roll feeder, cutting mat supports, completed media crosscutter and a handy storage compartment for spare blades and other tools.
Popular Materials Cut On The Cameo:
Adhesive Vinyl
Heat Transfer Vinyl
Cardstock
Craft Foams
Leatherette
Thin Fabrics
Cork Sheets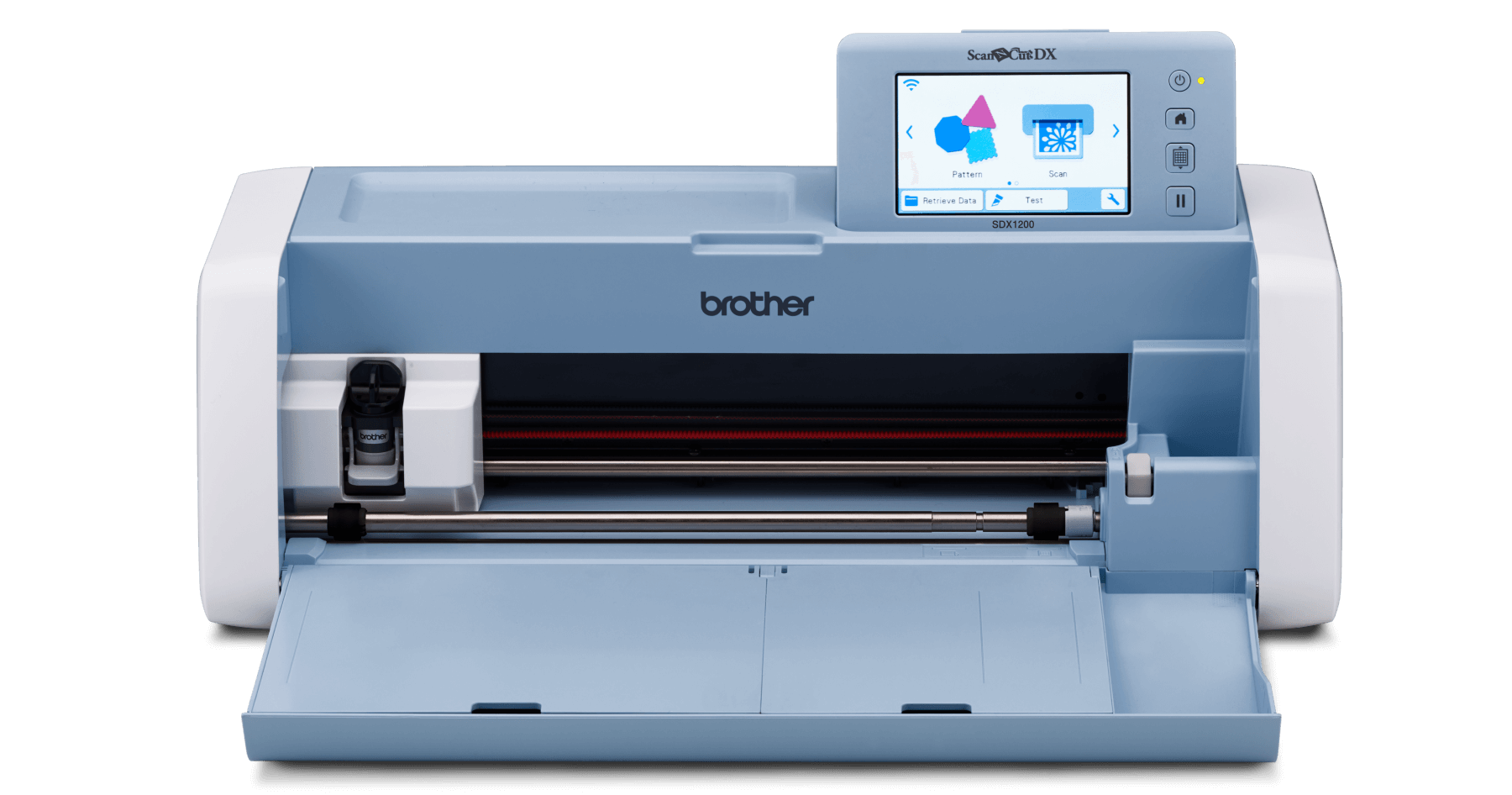 Brother ScanNCut Desktop Cutting Systems
Brother provide two different series of their popular ScanNCut desktop cutting systems, the CM Series and the SDX Series. The CM Series are the perfect choice for hobbyists who have previously used hand wound die cutting machines and are looking to make the switch to a digital cutting system. The SDX series feature Brother's fantastic Autoblade technology and the ability to operate them remotely on smartphones and tables via the ArtSpira app.
Brother ScanNCut machines are fantastic for users who may not be confident users of computers or digital design software. the ScanNcut machines can be controlled and operated solely from the LCD touchscreen interface on the top of the machine. Brother do provide a digital design software package in the form of Canvas WorkSpace but it isn't integral to operating the machine.
Brother CM Series Machines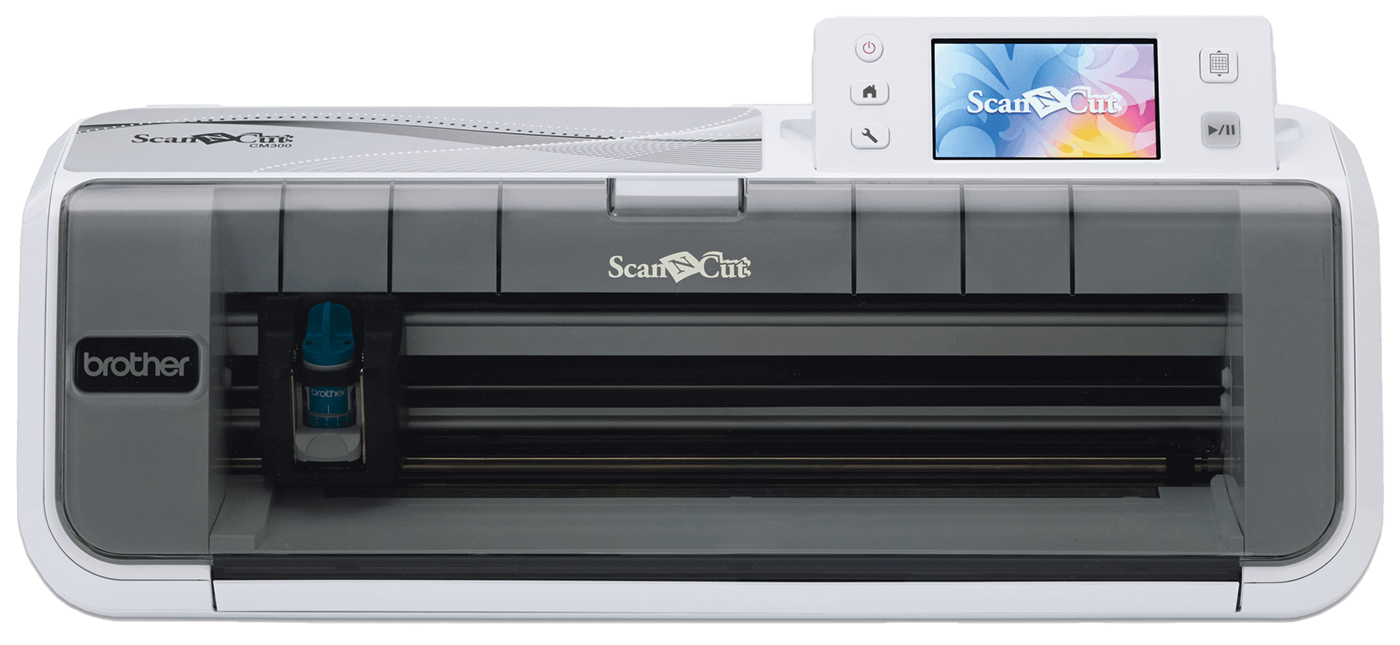 The CM series ScanNCut machines from Brother are perfect for users who are new to the world of digital craft machines.
The beauty about the entire ScanNCut range is that you do not need to be able to use a computer in order to operate these digital cutting machines, all of the control interface is easily navigated and operated via the LCD touchscreen.
The uniqueness of the ScanNCut machines are that they are the only desktop cutting machines on the market that feature an inbuilt scanner. You can draw a design on a piece of paper, attach it to a scanning mat, and then use the machine to scan you design in and turn it into a digital cut file in a matter of seconds.
The CM series requires the use of manually adjusted blades to cut your designs, you are also able to draw if you exchange the blade holder for a pen holder.
CM Series machine are also supported by Brother's Canvas Workspace Digital Design Software which allows you to create designs on your computer or laptop and save them in a file format which the machine can easily read. You can send designs from the software either by connecting directly via printer cable or by saving your design to a USB pen and plugging that into the side of the machine.
If you are looking to move to a digital cutting machine, the CM Series should be high up on your list.
Brother SDX Series Machines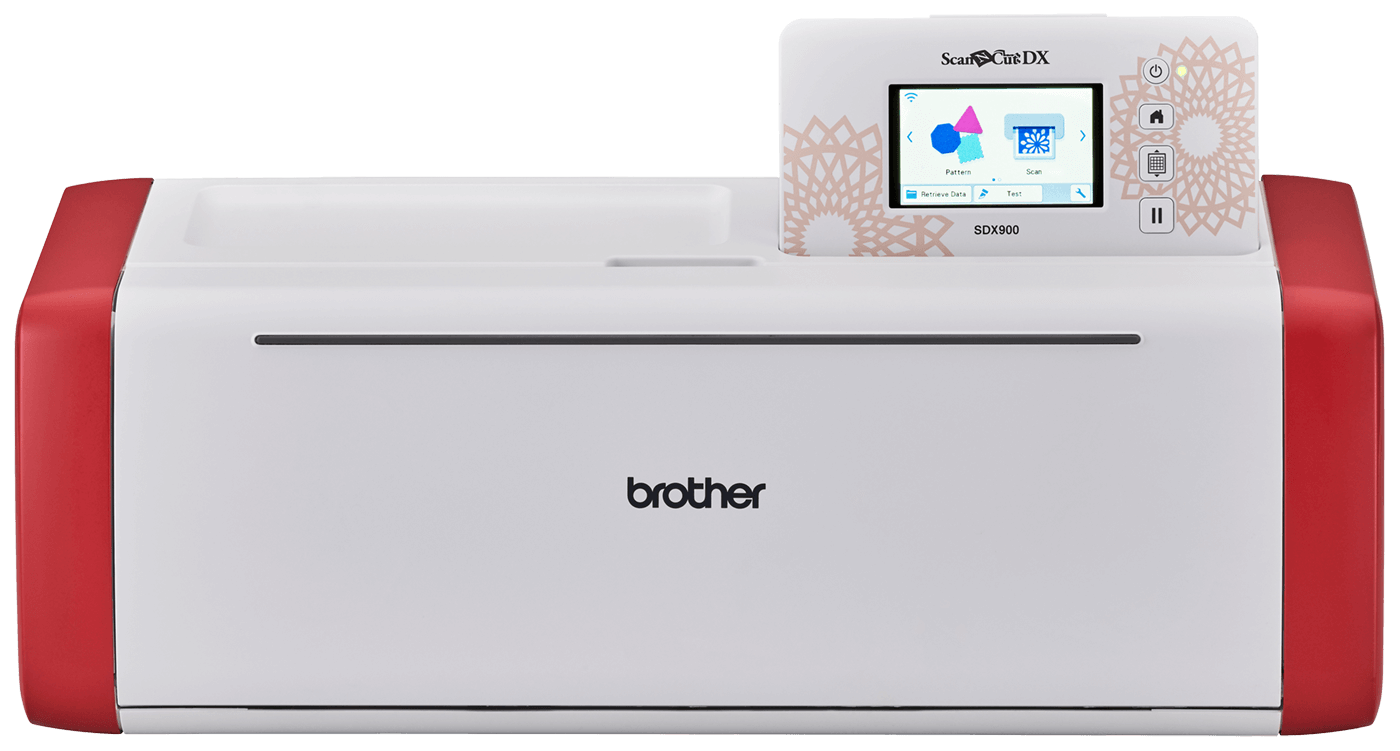 The SDX ScanNCut Series from Brother are absolutely packed to the rafters full of features and allow users to be able to:
Scan
Cut
Draw
Pierce Paper
Emboss
Foil
Glue
The SDX series features Brother's fantastic Automatic Blade Technology. The Automatic Blade on the SDX series detects how thick and dense the material is. Once it has done this it automatically sets the blade depth, the head pressure, the speed and the amount of passes it will take for the blade to cut the material.
The SDX Series are also very popular with users who also own and use sewing / embroidery machines as they can be used to cut fabric.
You can now also operate SDX Series Machines remotely using the new ArtSpira app which allows you to create and send digitally created designs directly to the machine via your smartphone or tablet.
Contact Us If You Require Further Information