Cuts & Creases Rigid Materials

For Pre-Production Samples

Perfect For Packaging
"The FCX2000 is the ultimate solution for prototyping and small production runs of rigid materials without the use of a cutting die and features head pressure of up to 1kg."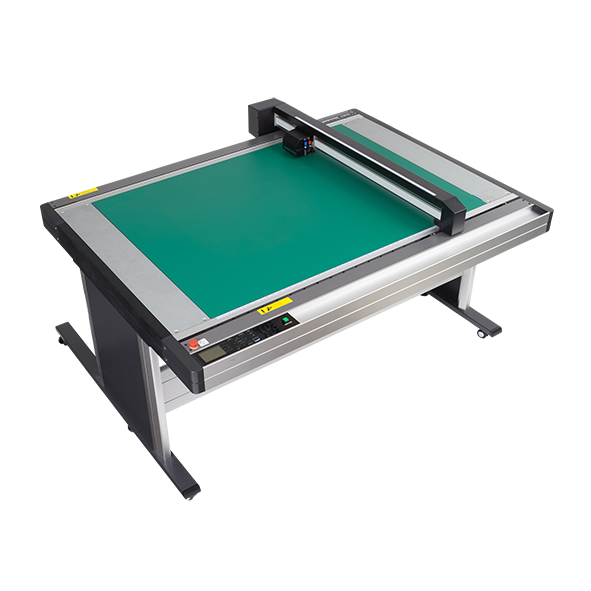 FCX2000 Features & Specifications
• FCX2000 Series Overview
"Work Smarter, Not Harder".
The FCX2000 is the ultimate solution for prototyping and small production runs of rigid materials without the use of a cutting die.
Reduce media waste/ processing time with Graphtec's precision cutting performance and dedicated software. Added offline (USB) operation enables users of all skill levels to easily process materials.
Precision cutting is achieved by enhancements to the rigidity of moving mechanism that deflection due to pressure during cutting, this has enabled new functions such as curved creasing & scoring lines.
Graphtec flatbed cutting plotters meet the wide variety of application used in prototyping and short production runs of packaging used in industrial materials.
• Key Features
• Specifications
• Main Applications
• Package Includes
• Vacuum Pump
• Specialist Tools
• Operation
Offline Operation
Using offline USB operation, even the most novice user is set to operate directly from the machine – without the use of a computer. USB operation enables operators of all skill levels to process various types of media for cutting. Having a designer create the plot file, it can be passed to users of any experience level to produce. Simply insert the USB and select the file from the intuitive new 3.7 inch Graphic LCD screen. The corresponding cutting conditions are automatically applied and the job is produced. Similarly, barcodes can be generated for print and cut applications. Cutting data is automatically selected from USB flash memory by scanning the generated barcode printed on the media to preform contour cutting. This reduces the potential for mistakes by the operator.
ARMS System
The FCX2000 Series is equipped with Graphtec's renowned ARMS system (Advanced Registration Mark Sensing) technology that allows users to accurately contour cut pre-printed graphics with ease. Auto-scanning of four point registration marks compensate for distortion in both X & Y directions to ensure precise cutting. Version 6.0 is packed with high productivity features such as ARMS Copy, One Point Compensation, Scan Start Position, and Expanded Cutting Area capability.
Dual Head Design
Dual head design delivers 500G and 1000G of force at speeds up to 400mm/s. Process materials thick or thin – including: Rubylith, Static Cling Film, Vinyl, Rubber Sandblast, Diamond Grade Reflective, Chipboard, E flute* and more. Three table sizes of 36"x 24", 36" x 48", and 36"x 72" are available utilizing enhanced vacuum suction media hold down.
Interface
Interface: Ethernet, USB2.0 and Serial RS-232C | Intuitive 3.7" LCD Screen | Digital Servo Motor USB Flash Memory for Offline Operation | Win & Mac Compatible
• Supplied Software
• Specification Data Sheet
• Machine Options
• Downloads
• FCX2000 Video Tutorials ≡
Contact Us If You Require Further Information On The FCX2000
Page Disclaimer
Images are for illustration purposes only.
All details are correct at time of page production.
Product specifications may change without warning.