"The Graphtec CE7000 Series is now available in 4 widths and 3 different model formats. The CE7000 now includes an enhanced specification which makes it one of the most cost effective cutting plotters on the market for sublimation markets, sign writing sectors and sticker & label creation."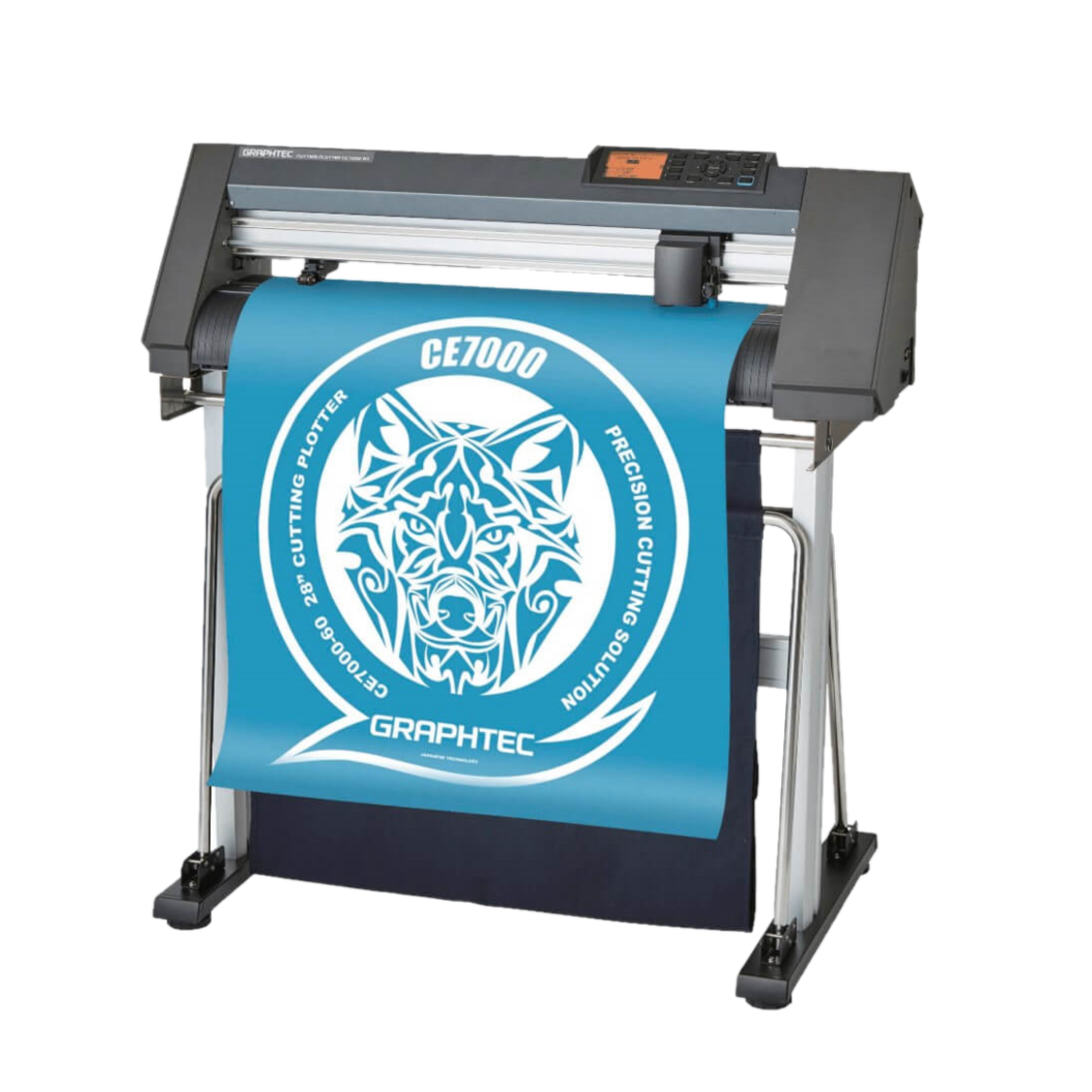 CE7000 Features & Specifications
• CE Series Overview
"The Cost Effective Engineering Class Cutting Plotter".
The Graphtec CE Series Cutting Plotters are one of the most popular and cost effective plotter ranges on the market for users who are based in a smaller work space or use lighter grade materials.
The CE Series' robust, no-nonsense engineering class design and build makes it perfect for life on the print shop floor and is perfect for sublimation, stone masonry and sign writing applications.
The CE Series is equipped with great features such as a registration mark sensor for print & cut jobs, perforation cutting ability and a guaranteed cut accuracy of up to 5m at an extremely competitive and cost effective price point.
Cost Effective Package | Highly Efficient Performance | Professional Specification
• Key Features
• Specifications
• Main Applications
• Package Includes
• Optional Accessories & Upgrades
• Operation
The Most Cost Effective Cutting Plotter On The Market
The CE7000 is easy to use which follows Graphtec's ethos of ensuring all of their products are highly intuitive, simple to operate and extremely efficient.
The plotter is driven by an large backlit LCD screen and tactile control panel which is used to quickly and easily adjust user settings, automatic registration mark sensing system and to support print and cut alignment which is crucial to ensure you achieve the best cut every time.
CE7000 User Modes
Simple Mode: This mode automatically sets the necessary cutting conditions need to cut through the chosen media type which is perfect for operators who are new to the machine.
Normal Mode: This mode is user driven and lets allows the user to use all functions and settings to tune the plotter in for specific operator requirements. Using this mode allows operators to set up to 8 separate cutting conditions which can be linked to specific materials and saved within the machines memory for future use.
• Print & Cut Features
• Supplied Software
• Specification Data Sheet
• Machine Options
• Downloads
• CE7000 Video Tutorials ≡
Contact Us If You Require Further Information On The CE7000
Page Disclaimer
Images are for illustration purposes only.
All details are correct at time of page production.
Product specifications may change without warning.