Automatic Sheet Feeding

30-40 Seconds Per Sheet

For A4 & SRA3 Media

Multiple Cutting Applications
"The Graphtec F-Mark 2 Automatic Sheet Fed Cutting System delivers a range of automated cutting applications and offers an in-house solution for digital print-and-cut jobs (labels & stickers) as well as the creation of gift boxes and pre-production packaging samples without the need for an operator."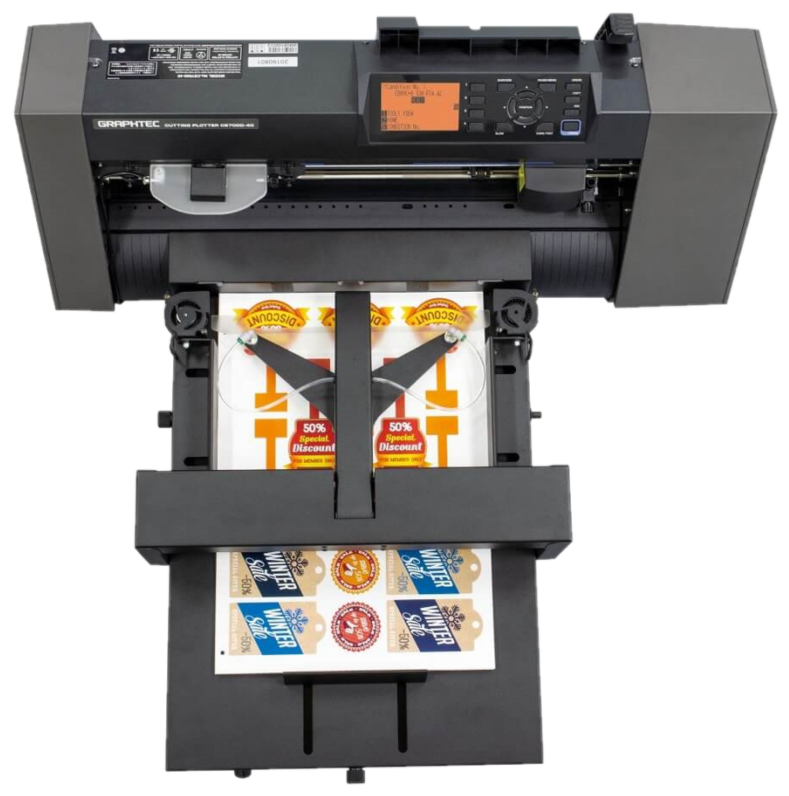 Adobe Illustrator Compatible
Cost Effective Automation
F-Mark 2 Features & Specifications
• F-Mark 2 Overview
"Add Automation at the fraction of the cost of implementing a production line".
The F-Mark 2 makes producing bespoke labels, packaging and a variety of other jobs fast, easy and cost effective. Design the job in Illustrator or CorelDRAW, print it out on sheets up to SRA3 in Size and leave the sheets to be automatically die or kiss cut by the F-Mark 2 Die Cutter.
The Graphtec F-Mark 2 Automatic Sheet Fed Cutting System is designed to automatically feed and contour cut A3 and A4 sheets without the need for an operator. Equipped with precision eye-mark camera technology the F-Mark allows for quick reading of crop marks with a precision grade of 0.2mm.
One of the unique features of the cutting system is that, depending on the thickness of the material being processed, it can handle up to 200 sheets of material in a continuous cycle but with the ability to add further sheets as required without interrupting the cutting process. This is a capability that we consider sets the F-Mark series apart from any comparable sheet-fed system and allows for automation to be brought into the smaller work space for a fraction of the cost of installing a production line.
Automatic Sheet Feeding | 30-40 Seconds Per SRA3 Sheet | Kiss, Perforation & Die-Cutting Capabilities
• Key Features
• Specifications
• Main Applications
• Package Includes
• Operation
Perfect sheet alignment is achieved via crop mark reading for each individual sheet, with a camera equipped with F-Mark technology performing the crop mark adjustments in a fraction of a second. Software algorithms compensate for any distortion from the printing process to enable precise cutting with minimal bleed. There is also an option to cut perforated lines during file creation.
In addition to kiss cutting the Graphtec F-Mark 2 is excellent for die cutting card, making it an excellent option for customers looking to produce items such as business cards and packaging.
The cutting parameters set by the software allows the use of crop marks as small as four millimeters, enabling maximisation of the sheet size and minimal material wastage. Depending on the material being processed and the complexity of the image outline, the average cutting speed is 30-40 seconds for each sheet.
The F-Mark is run through custom F-Mark software that accepts Illustrator and CorelDraw files.
• Process
• Supplied Software
• Specification Data Sheet
• Downloads
• F-Mark 2 Video Tutorials ≡
Contact Us If You Require Further Information On The F-Mark 2
Page Disclaimer
Images are for illustration purposes only.
All details are correct at time of page production.
Product specifications may change without warning.