Cuts & Creases

For Thicker Sheet Type Material

Silent Electrostatic Media Hold Down

Perfect For Desktop
"The Graphtec FCX4000 Series Flat Bed Cutting Plotter is an affordable desktop solution for small to medium print on demand jobs and offers high performance cutting speeds of up to 750mm/s with a max cutting pressure of 600gf."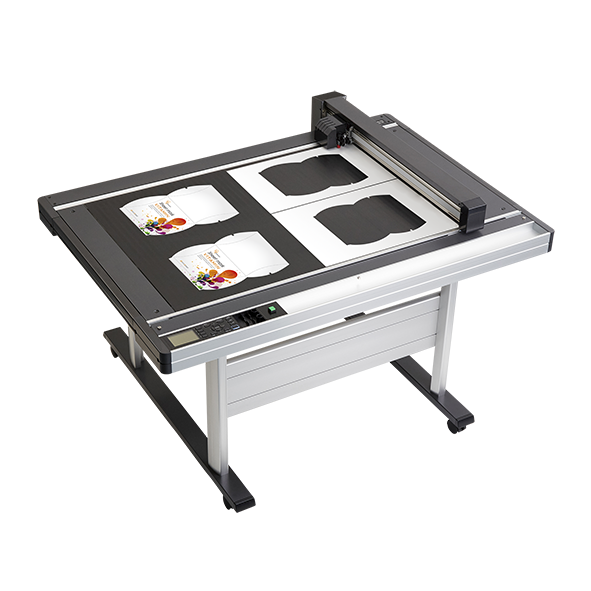 FCX4000 Features & Specifications
• FCX4000 Series Overview
The Graphtec FCX4000 Series Flat Bed Cutting Plotter is an affordable cutting solution for small to medium print on demand jobs and uses electrostatic technology to firmly hold media to the table.
The FCX4000 offers easy to use and intuitive operation with its new 3.7" LCD screen control panel and USB / Barcode functionality.
2 different table size are available. The effective cutting area of the 50ES model is expanded for supporting 2 sheets of A3+ size, and the 60ES model supports 4 sheets of A3+ size. The FCX4000 is more suitable in the use of post-processing of Print On Demand jobs than its bigger brother, the FCX2000.
• Key Features
• Specifications
• Main Applications
• Package Includes
• Specialist Tools
• Operation
Offline Operation
Cut and plot data is created with Cutting Master 4 or Graphtec Pro Studio. That saved data may be transferred to a USB flash memory and the cut plot data file can be selected from the USB on the FCX4000 using its menu operations. This simplified work-flow enables users to operate without being connected to the computer.
ARMS 6.0 System
The Graphtec FCX4000 Series Flat Bed Cutting Plotter uses enhanced ARMS (Advanced Registration Mark Sensing system) for improved productivity of P&C applications.
Equipped the ARMS (Advanced Registration Mark Sensing system)6.0.
Easy and accurate cutting of pre-printed images using the cutting master 4 and etc.
Enables higher productivity of POP, stickers, and prototype cartons.
ARMS Copy Function
After data is sent the first time, it can be copied multiple times without a PC. In the FCX4000 Series, the first four marks are scanned on the first sheet, and only the first mark in subsequent sheets. This improves productivity by shortening scan detection time.
The FXC4000 features Graphtec's newest Advanced Registration Mark Sensing System Version 6.0 for even more improved contour cutting of your pre-printed graphics for package prototyping, reflective sheeting and many other professional rigid applications – using Cutting Master 4, Graphtec Pro Studio, and including most industry standard cutting software.
Reverse Side Cutting & Creasing Method 
Cutting and creasing of pre-printed packaging graphics is possible on the reverse (non-printed) side of the sheet. This method of reverse side cutting and creasing prevents damage and marking of the printed side. This option is currently available using Cutting Master 4 or Graphtec Pro Studio software with the FCX4000.
Interface
Interface: Ethernet, USB2.0 and Serial RS-232C | Intuitive 3.7" LCD Screen | Digital Servo Motor USB Flash Memory for Offline Operation | Win & Mac Compatible
• Supplied Software
• Specification Data Sheet
• Machine Options
• Downloads
• FCX4000 Video Tutorials ≡
Contact Us If You Require Further Information On The FCX4000
Page Disclaimer
Images are for illustration purposes only.
All details are correct at time of page production.
Product specifications may change without warning.