At Graphtec GB, we are the Official UK Importer & Distributor for Graphtec's market leading X-Y cutting plotter systems.
We supply both roll fed and flat bed cutting systems which can process a wide variety materials that are used in a broad range of industries from fashion houses through to automotive detailing outlets and sign shops.
Read more below to find out which type of cutting plotter is the best option for your cutting requirements.
What is a Cutting Plotter?
A cutting plotter is a digital output device that connects to a computer system that can cut or plot (draw or write) onto media and substrates to produce intricate designs such as lettering, graphics or technical drawings / documents.
Cutting Plotters work on twin axis technology to create the designs. The X axis is where the machine moves the media from front to back, the Y axis is where the cutting head moves from left to right.
When the machine moves the head and the media at the same time, it is able to quickly produce detailed and intricate designs that aren't easily replicated by hand cutting methods.
We supply two types of cutting plotter systems, Roll Fed and Flat Bed. Read on below to learn which type of machine is best for your required cutting or plotting application.
What Are Roll Fed Cutting Plotters?
Roll Fed cutting plotters are the most common form of commercial cutting systems for processing (cutting / drawing) materials that are usually sold on the roll such as:
Adhesive Vinyl
Heat Transfer Vinyl
Thin Card & Paper
Window Tint
Protective Films
You will most commonly find these types of cutting systems in the follwing environments:
Sign Shops
Stone Masons
Fashion Houses
Car Detailing Facilities
Graphic Design Departments
Roll Fed Cutting Plotters commonly feed materials through the cutting system from the rear of the machine. They process media by moving it forward and backward whilst the head which holds either the blade or pen moved from side to side.
We supply two versions of commercail grade cutting plotter systems from the market leaders, Graphtec.
For Longer Production Runs Of Specialist Materials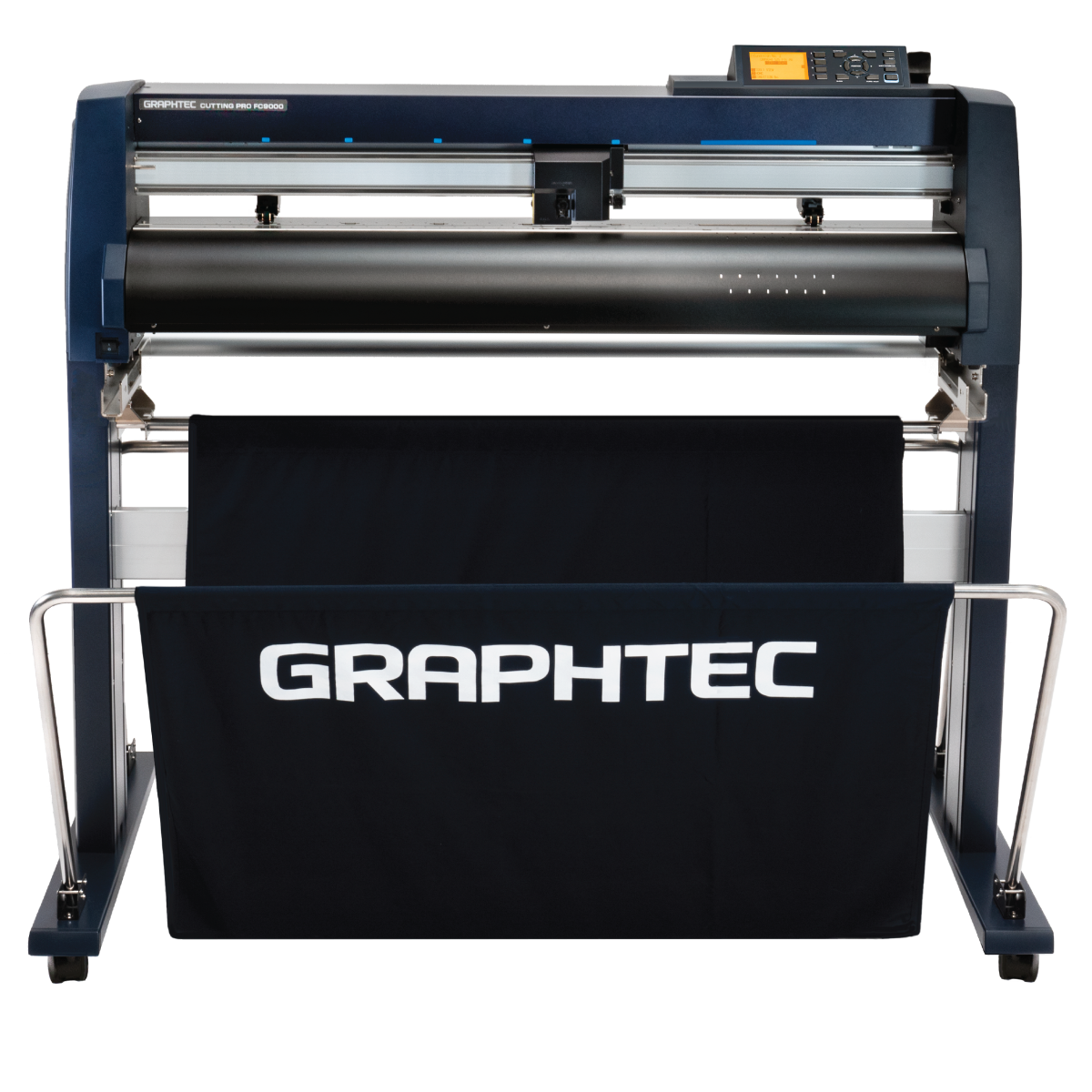 Choose The FC Series For:
Processing Longer Production Runs (Up To 20m)
Cutting Specialist Materials Such As PPF
Cutting Heavier Thicker Materials
High Volume Production
For Shorter Bespoke Runs Of Standard Materials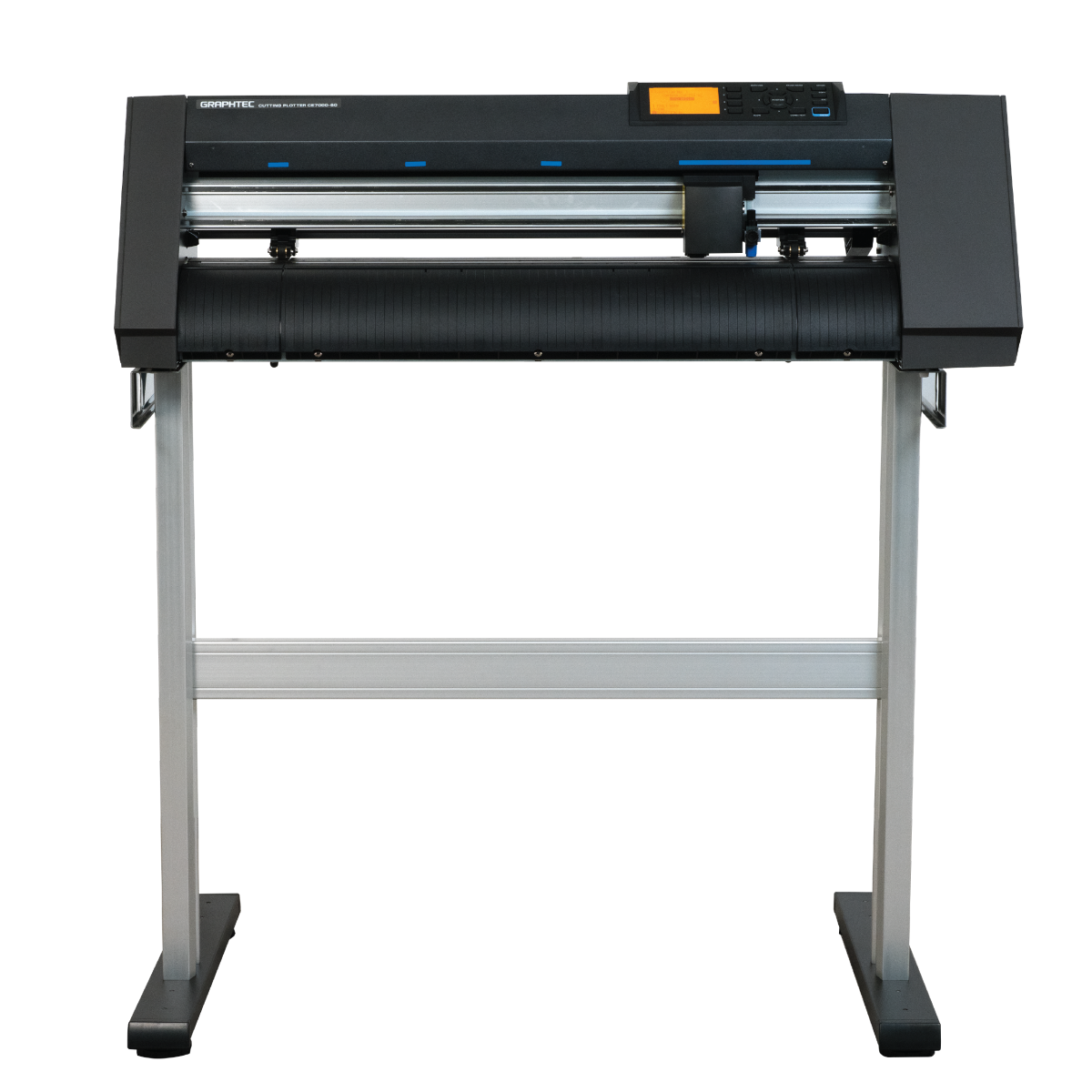 Choose The CE Series For:
Shorter Production Runs (Up To 5m)
Cutting Standard Materials (Vinyl | HTV | Paper)
Compact Workspaces (40cm & 60cm Available As Desktop)
Smaller Bespoke Jobs
What Are Flat Bed Cutting Plotters?
Flat Bed Cutting Plotters are for processing thicker, sheet type materials such as:
Thicker Single Ply Card
Corrugated Cardboard
Correx
Foam Board
Thicker Rigid Type Vinyl Sheets (High Intensity Reflective Vinyl)
Flat Bed cutting plotters hold the media in place by either suction (via a vacuum pump) or an electrostatic charge. Unlike roll fed system that move the media, flat bed machines hold the media in place whilst the cutting head moves from side to side whilst the automated arm moves forward and backwards.
If you are looking to crease materials, your best option is to go for a flat bed that utilises the suction method of media hold down. This is because the bed supplied on these machines is slightly spongy and allows the material to give to produce a more defined creased line. These versions of the machine also supply a greater level of head pressure.
Both suction and electrostatic systems are fantastic for cutting and plotting onto sheet tyoe materials.
For Larger Thick Sheet Type Materials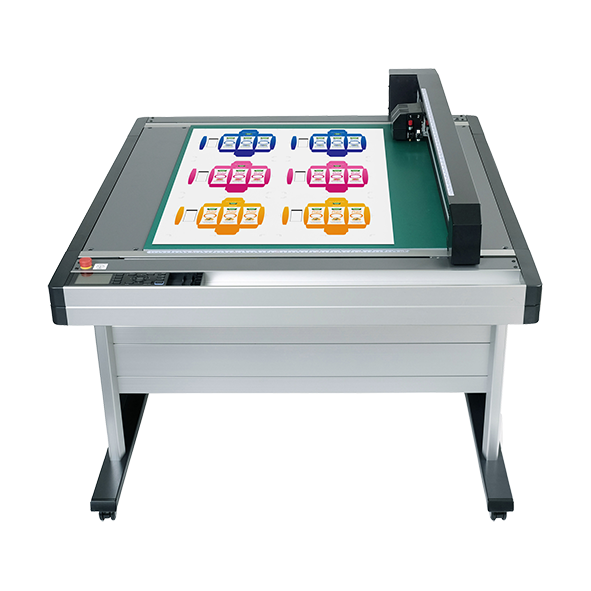 Choose The FCX2000 Series For:
Processing Wider Materials (Max 900 x 1800mm)
Processing Materials Up To 1mm Thick
Supplies A Higher Head Pressure For Denser Sheet Type Materials
Cutting, Plotting & Creasing Materials
Pre-Production & Production Runs
For Smaller Thin Sheet Type Materials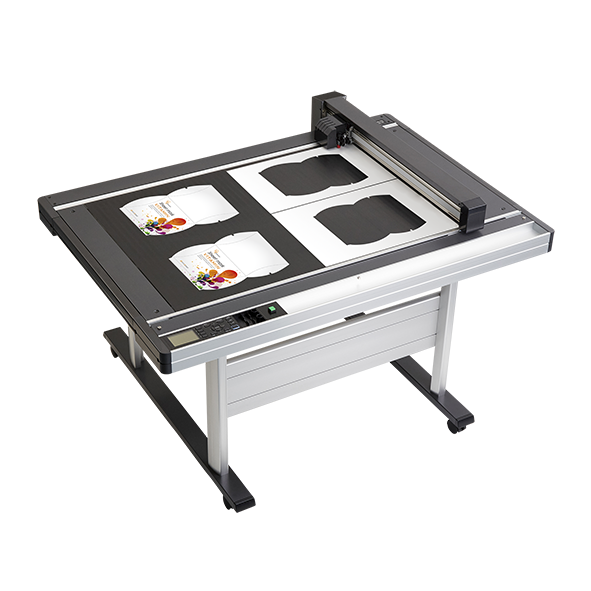 Choose The FCX4000 Series For:
Processing Sheets Up To 600mm Wide
Processing Materials Up To 0.5mm Thick
Lower Head Pressure For Thinner Sheet Type Materials
Cutting & Plotting Onto Sheet Materials
Prototyping & Creating Pre-Production Samples
Contact Us If You Require Further Information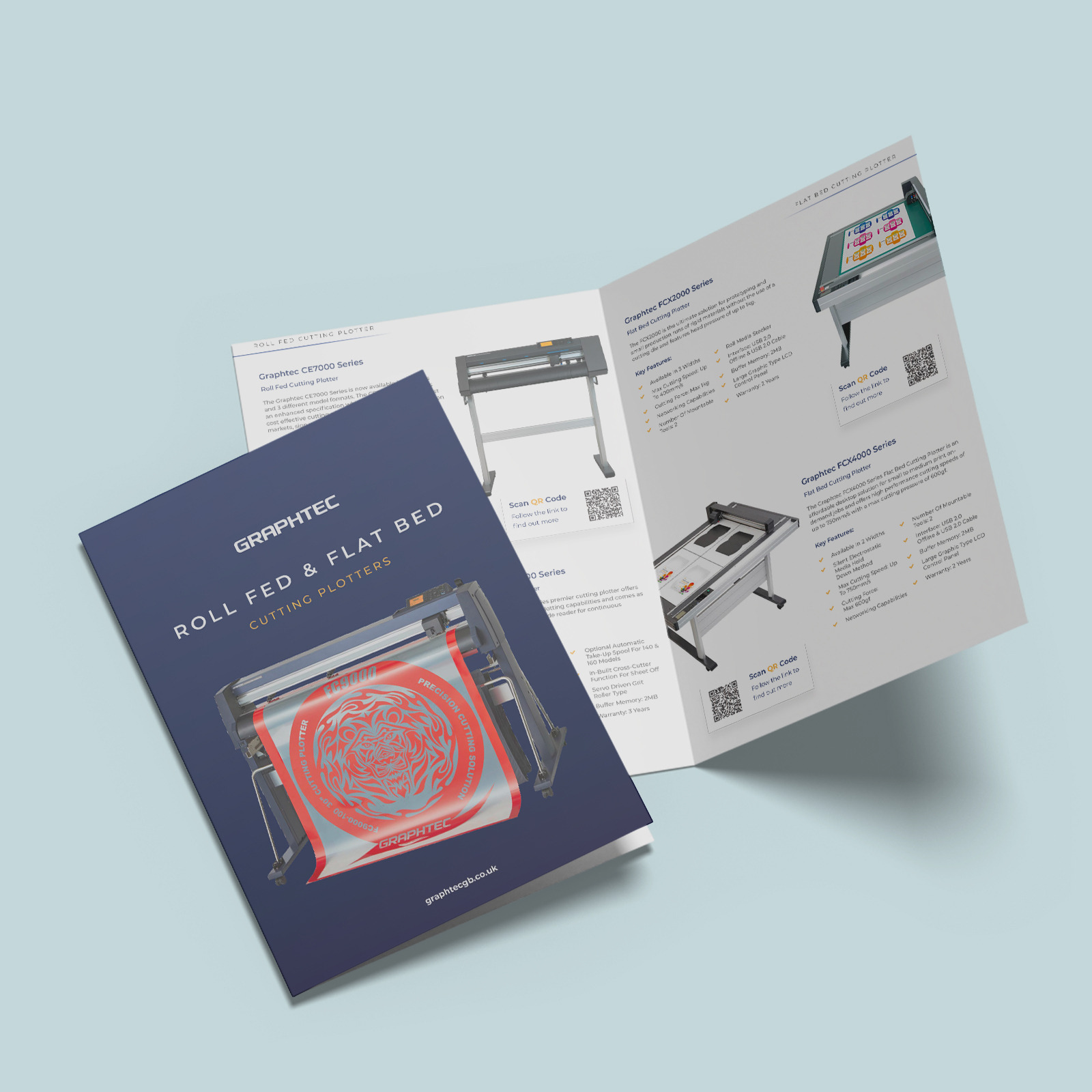 Download Our Free Brochure
Download our free roll-fed & flat-bed cutting plotters brochure to see how our products can impact your business.