Class Leading

Increased Productivity

Premium Design
"The Graphtec FC9000 series premiere cutting plotter offers best in class cutting and plotting capabilities and comes as standard with a new barcode reader for continuous cut capabilities."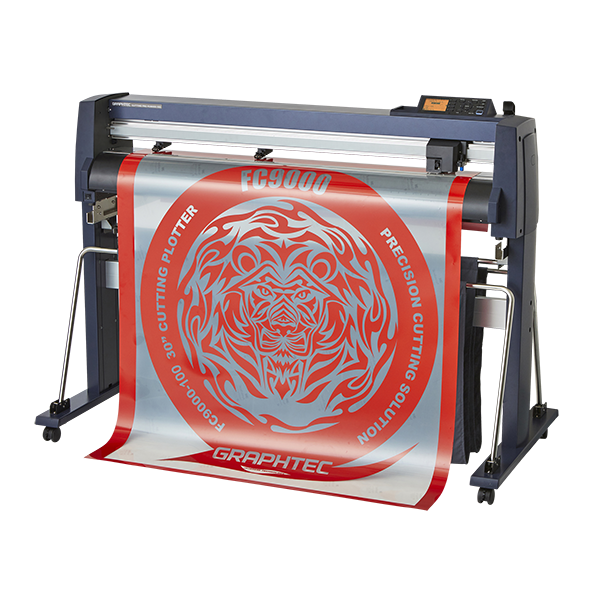 FC9000 Features & Specifications
• FC Series Overview
"The Ultimate Print Finishing Solution".
An FC Series Cutting Plotter provides a higher level of productivity and greater ease of use than any other cutting plotter on the market today.
Unlike other cutting plotters on the market, the FC Series comes as standard with media catch nets, networking capabilities, built-in cross-cutter, matching stand and is also customisable to further augment what is an already class leading product.
With 4 different widths available the FC is perfect for both small scale high volume users through to high demand wide format print shops who are looking for a highly functional print finishing solution to match up to their Solvent or UV printers.
With it's unmatched cutting speed, powerful head pressure and included professional grade software the FC Series raises the bar to a totally new and incomparable level of performance, usability and functionality.
Class Leading Performance | Increased High Level Productivity | Premium Design & Build Quality
• Key Features
• Specifications
• Main Applications
• Package Includes
• Operation
• Print & Cut Features
• Supplied Software
• Specification Data Sheet
• Machine Formats
• FC9000 Video Tutorials ≡
FC9000 Optional Upgrades & Accessories
Consumables

Graphtec FC9000 Apparel Kit

Graphtec GB Says
"If you are looking for a wider format Apparel machine than the Graphtec CE7000-AP then this kit allows you to add the relevant parts to your FC9000 machine to plot onto pattern paper without having to manually change the tool."

Apparel Kit Key Features:

1 x 2nd Pen Kit
1 x Media Flange Kit
1 x Additional Push Roller
1 x Soft Landing Cutting Strip
1 x Ball Point Pen Holder
10 x Ball Point Pens

PRICE: £849.00 (£1018.80 Inc VAT)

Please Note: This kit can be fitted to your machine retrospectively. Kit will need to be fitted to the machine by a Graphtec engineer. Contact us today to find out more.
Contact Us If You Require Further Information On The FC9000
Page Disclaimer
Images are for illustration purposes only.
All details are correct at time of page production.
Product specifications may change without warning.