Graphtec GB Says
"The Graphtec FC9000 series premiere cutting plotter offers best in class cutting and plotting capabilities and comes as standard with a new barcode reader for continuous cut capabilities."
FC9000 Features & Specifications
• FC Series Overview
"The Ultimate Print Finishing Solution".
An FC Series Cutting Plotter provides a higher level of productivity and greater ease of use than any other cutting plotter on the market today.
Unlike other cutting plotters on the market, the FC Series comes as standard with media catch nets, networking capabilities, built-in cross-cutter, matching stand and is also customisable to further augment what is an already class leading product.
With 4 different widths available the FC is perfect for both small scale high volume users through to high demand wide format print shops who are looking for a highly functional print finishing solution to match up to their Solvent or UV printers.
With it's unmatched cutting speed, powerful head pressure and included professional grade software the FC Series raises the bar to a totally new and incomparable level of performance, usability and functionality.
Class Leading Performance | Increased High Level Productivity | Premium Design & Build Quality
• Key Features
"The FC9000 Series Cutting Plotter offers the user more features than ever before giving the FC9000 a deserved best in class tag line!"
• Roll Fed Cutting Plotter
• 4 Widths Available: 75cm | 100cm | 140cm | 160cm
• Servo Driven Grit Roller Type
• Maximum Cutting Speed: 1485mm/s
• Cutting Force: Max 5.88N (600gf)
• Networking Capabilities
• Data Link Function (Barcode Reader)
• Optional Automatic Take-Up Roller For 140 & 160 Models
• In-Built Cross-Cutter Function For Sheet Off
• Buffer Memory: 2MB
• Warranty: 3 Years
• Specifications
Machine Specifications:
• Configuration: Grit Rolling Type
• Drive Method: Digital Servo Drive System
• Graphic Type LCD Display With Back Light
• Built-In Cross Cutter
• Networking Ethernet Port
• Mountable Number Of Tools: 2 Tools (When Second Pen Kit Installed)
• Maximum Cutting Force: 5.88N (600gf)
• Maximum Cutting Speed: 1485mm/s
• Interface: USB 2.0 Offline | USB 2.0 Cable
• Buffer Memory: 2MB
Performance Specifications:
• Media Tracking Distance: 15m Standard | 20m Enhanced With Take Up Spool Installed On 140 & 160 Versions
• Minimum Character Size: Approx. 3mm Alphanumeric (Varies Depending On Character Font & Type Of Media)
• Programmable Resolution: GP-GL: 0.1 / 0.05 / 0.025 / 0.01 mm | HP-GL™: 0.025 mm
• Repeat-ability: Max. 0.1 mm In Plot up to 2m
• Perforation Cutting: Yes (Performed By Force Control)
• Die-Cutting: Yes
• Kiss Cutting: Yes
Media Specifications:
• Self-Adhesive Marking Film Up To 0.25mm Thick Or Less
• PVC Film
• Fluorescent
• Reflective
• Polyester Film (On Condition)
• High Intensity Reflective
• Film (Diamond Grade | Engineer Grade)
• Main Applications
The FC9000 Is Perfect For:
• Sticker & Decal Creation
• Window Signage
• Road Signage
• Heat Transfer Apparel
• Window Tint Film
• Paint Protection Film (PPF)
• Magnetic Media
• Sandblast Rubber Stecil
The FC9000 is The Best Plotter For:
• Sign Vinyl
• Large Format Print & Cut Media
• High Intensity Reflective Vinyl
• Paint Protection Films & Vehicle Wrap
• Apparel Pattern Paper
• Magnetic Materials
• Sandblast Rubber Stencil
• Package Includes
Machine Includes
• Matching Stand Including Lockable Castor Wheels
• Rear Mounted Media Stocker
• Media Catch Baskets (Front & Rear)
• Power Cable (3 Pin UK Plug)
• 2.9m USB Connection Cable
• DVD-ROM
• User Manual
Included Accessory Bundle (Worth £261.20 (£313.44 inc VAT))
• Cutting Blade Holder (PHP33-CB09N-HS)
• Cutting Blade (CB09UB)
• Loupe – For Checking Blade Length & Condition (PM-CT-001) 
• Fibre-Tipped Pen Holder (PHP31-FIBER)
• Water-Based Fibre Tipped Pen (KF700-BK)
• Optional Accessories & Upgrades
• 2nd Pen Kit
For the ability to plot as well as cut without having to remove the blade
 View Now
• Additional Push Roller Assembly
For increased grip if cutting heavier materials
View Now
• Media Flange Kit
For enhanced media tracking capabilities
View Now
• Automatic Take Up Spool
For 140cm & 160cm Versions to allow you to cut and automatically roll up medias back onto a spool.
View Now
• Operation
Best In Class Capabilities
The FC9000 Series offers best in class productivity and abilities with a wider range of compatible media.
Wide Cutting Area For Full Media Use
All FC9000 models have a minimum cutting width of 50mm, the maximum cut width is determined by the width of machine you opt for.
Auto-Paneling
To prevent skew of long-length cutting, the auto-paneling function automatically splits long-length jobs into smaller pages that are then cut sequentially. It shortens feed length of the media and enables a more stable cut through the machine. This is the ideal solution when cutting a job that is potentially longer than the guaranteed long-length tracking capabilities of the machine.
User-Friendly Built-In Control Panel
Save 2 user settings with 8 condition settings for each user. A fast access key allows quick switching between users. One cutter can be shared by multiple users or for multiple purposes.
Improved & Increased Long-Length Tracking
The FC9000 supports long-length tracking of up to 15m as standard. For the wider 140 or 160cm wide models there is a now an automatic take up roller option which can be added to the plotter prior to purchase. Adding the take up roller increases media tracking accuracy up to 20m.
Data Output Via USB Flash Memory Without PC
When cutting data designed with Graphtec Pro Studio and sent with cutting Cutting Master 4 are saved to USB flash memory, they can be output directly to the cutting plotter by plugging in the USB drive directly into the plotter which means the machine can be used without the need for a computer.
• Print & Cut Features
A.R.M.S 8.0 Optical Eye
The FC9000 is equipped with the latest A.R.M.S (Advanced Registration Mark Sensing) 8.0 System to allow for easy and highly accurate print & and cut applications for pre-printed media. This system allows you to cut out around pre-printed designs to create adhesive-back labels and stickers or die-cut / perforation cut through card to create packaging samples out of card.
New Data Link Function (Barcode Data Management For Continuous Cutting)
By reading the Graphtec original barcode the FC9000 automatically detects its linked data from the PC or USB flash memory. This function is available regardless of which printer or RIP software is used.
Continuous Cutting
Barcode data management allows for cutting different data sequentially by detecting the "Start Mark" of the new type of barcode. Sequential P&C process with roll-media is now available.
Supports Coloured Marks & Speciality Media
The FC9000 supports a wide range of media types including holographic paper and reflective sheets. This has been made possible to the machines improved ARMS 8.0 Sensor algorithm.
Supports Adobe Illustrator "Crop Marks"
Using Cutting Master 4 plug-in software, Adobe Illustrator crop marks will be available.
Segment Area Compensation (XY)
This function has been implemented in addition to the current X-axis Direction Segment Area Compensation. Middle mark is now available not only for X but also Y-axis alignment.
Expanded Cutting Area
It expands the cutting area to include objects outside of the area enclosed by registration marks. Production efficiency is enhanced by reducing media waste.
• Supplied Software
The Graphtec FC9000 is driven by Graphtec Pro Studio (Studio for MAC) and includes the Cutting Master 4 plugin to allow you to drive the plotter from softwares such as Adobe Illustrator and CorelDRAW Graphics Suite.
Graphtec Pro Studio (PC Only)
Easy-to-use application software for creating original designs. Includes enhanced functions such as auto-shapes, shading, and editing functions. It can also configure the cutting conditions and other settings on the plotter. EPS / Ai / CMX / PDF file compatibility allows users to import pre-existing designs.

Graphtec Studio For MAC
This is an easy-to-use application software for Mac OS to create original designs. Images can be easily created by using the program icons that are arranged around the drawing area.

Cutting Master 4
Cutting Master 4 is a plug-in software for Adobe Illustrator and CorelDRAW Graphics Suite. Send cutting data to the plotter, view cut preview, add registration marks, edit tool conditions / job settings and more. This easy to use plug-in enables you to get the best performance from your plotter.
• Specification Data Sheet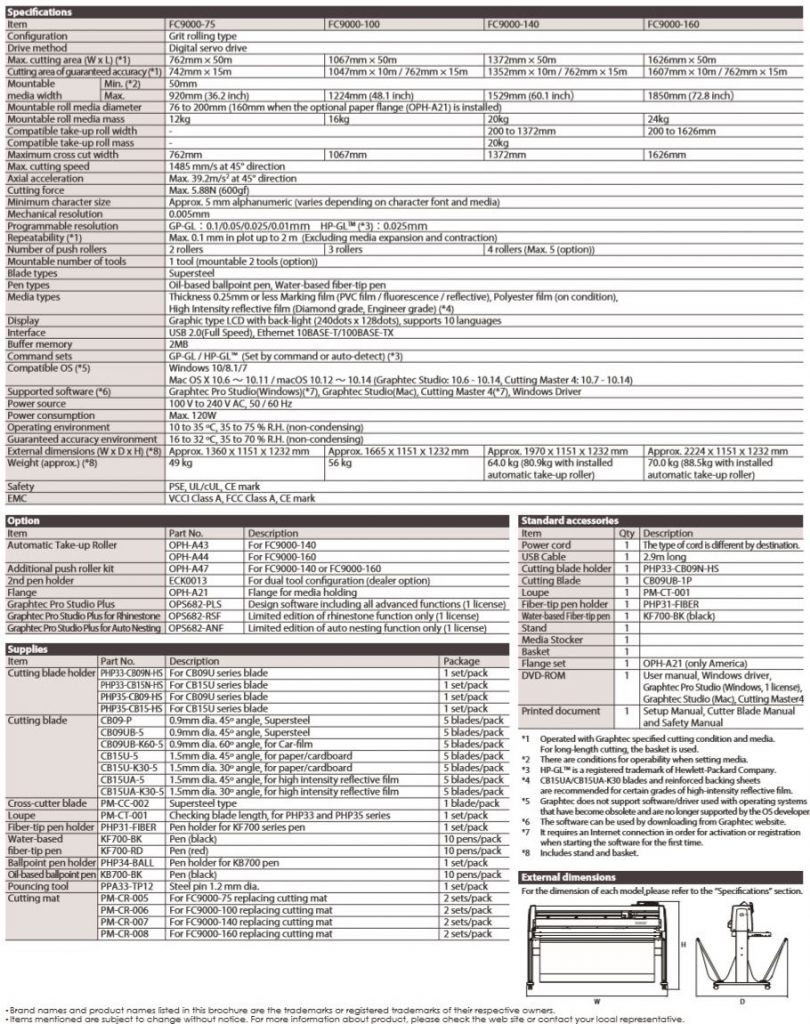 • Machine Options
FC9000-75
• Width: 75cm
• Supplied Push Rollers: 2
• Guaranteed Area Of Cut Accuracy: 742mm x 15m
• Max Mountable Media Width: 920mm
• Max Cross Cut Width: 762mm
• External Dimensions: 1360 x 1151 x 1232 (49kg)
FC9000-100
• Width: 100cm
• Supplied Push Rollers: 3
• Guaranteed Area Of Cut Accuracy: 1047mm x 10m
• Max Mountable Media Width: 1224mm
• Max Cross Cut Width: 1067mm
• External Dimensions: 1665mm x 1151mm x 1232mm (56kg)
FC9000-140
• Width: 140cm
• Supplied Push Rollers: 4
• Guaranteed Area Of Cut Accuracy: 1352mm x 10m
• Max Mountable Media Width: 1529mm
• Max Cross Cut Width: 1372mm
• External Dimensions: 1970mm x 1151mm x 1232mm
FC9000-160
• Width: 160cm
• Supplied Push Rollers: 4
• Guaranteed Area Of Cut Accuracy: 1607mm x 10m
• Max Mountable Media Width: 1850mm
• Max Cross Cut Width: 1626mm
• External Dimensions: 2224mm x 1151mm x 1232mm
• Downloads
• FC9000 Video Tutorials ≡
FC9000 Introduction Inc Unboxing | Assembly | Software                                      (CLICK ≡ FOR FULL PLAYLIST MENU)
FC9000 Basic Operations
FC9000 Print & Cut
FC9000 Advanced Features
Contact Us If You Require Further Information On The FC9000
Page Disclaimer
Images are for illustration purposes only.
All details are correct at time of page production.
Product specifications may change without warning.