Laser Cutting & Engraving Systems
Why Purchase A Wid Inovations Laser Cutting & Engraving System From Graphtec GB?
Graphtec GB are the official UK Distributor & Supplier for the Portuguese brand Wid Inovations and their range of superior grade WidLaser products.
Laser cutting and engraving is a cost effective and fast manufacturing process which, in some cases, can reduce the need for expensive tooling equipment and machining.
Our range of CO2 laser cutting & engraving systems are energy efficient, highly accurate and are a cost effective rapid manufacturing product for cutting, engraving and marking rigid materials and medias.
Our lineup up of WidLaser machines all come with software and an air compressor included. If you haven't got the option to vent the system outdoors then an optional fume extraction & air purification system is also available.
All of our WidLaser systems include delivery & installation by one of our engineers and if required, on-site training can be supplied during the installation process.
Laser Cutting & Engraving Ranges
Wid Inovations | WidLaser C Series
Main Features Of WidLaser Systems:
• Auto-Focus Lens
• LED Illuminated Workspace
• Removable Blades
• Removable Honeycomb Table
• Processed Material Collection Draw
• Integrated Chiller Unit
• Air Compressor
• Automatic Airflow & Temperature Control
• Smoke Extraction System & Vent
• USB & Network Connectivity
WidLaser Software & Operating System Requirements 
All WidLaser Systems work with Apple & Windows operating systems are supplied with RD Works Design Software. WidLaser Systems are fully compatible with Light Burn Software and can accept AI, DST, PLT, BMP, DXF files as standard.
WidLaser UK Warranty & Technical Support
All WidLaser machines come with a full 1 year UK warranty, lifelong technical support and delivery & installation are included as standard. We also offer training on all of our machines as well as email and phone guidance post delivery or installation.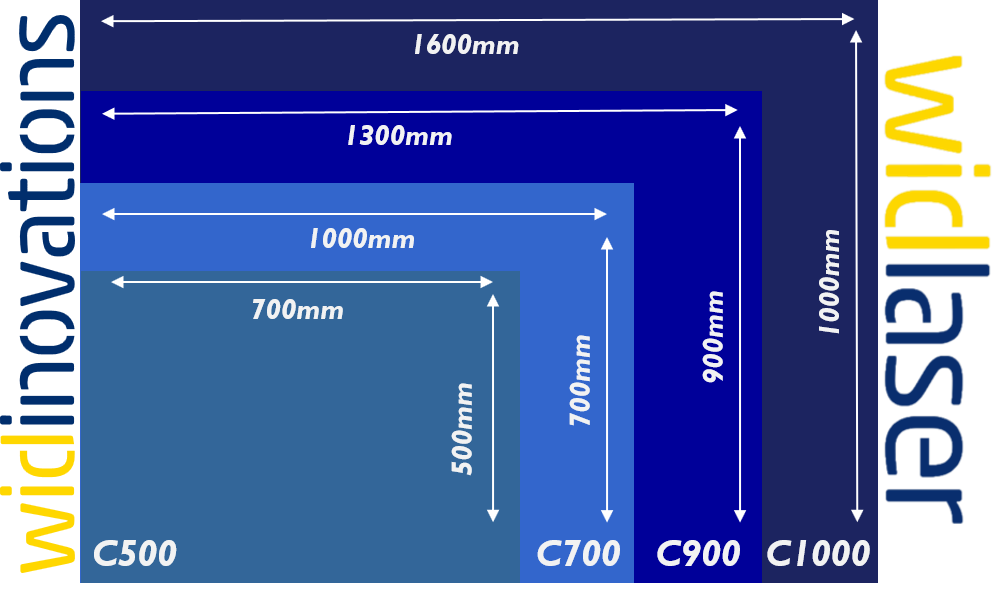 Why Laser Cutting & Engraving Is More Effective Than CNC
Laser Cutting & Engraving Systems are, in short, the best cutting products available for accuracy and precision as opposed to CNC machines for rigid and sheet type materials.
Laser systems provide a lot higher level of accuracy than CNC systems and can cut or engrave without having to change the tooling which you need to do regularly if using a CNC machine. All that is required in order to change from Cutting to Engraving is a quick change to the amount of power that the laser is producing.
Not only do Laser Systems generate a higher level of accuracy and precision, they allow the user to manufacture intricate and finer detailed designs than what is possible with a CNC machine due to the fact the laser cuts with a beam of concentrated light as opposed to physical tooling.
When it comes to finish, items made with a laser system often require far less finishing that items that have been created using a CNC machine. This is because laser systems burn away the material which leave little to no waste and the process also acts to cure and seal the edges where as CNC'd items may need rubbing or smoothing down and sealing after completion.
Like What You See? | Register Your Interest
Further product information, FREE cut media samples or book a demonstration either online or within our demonstration suite by registering your interest.