Multi Use Data Logger

Connects To GL840 For Use As Remote Unit

Features Modbus / TCP Protocol For Data Transfer
"The GLT400 is a multi-use type that can be used as a data logger for embedding in equipment and control panels, as well as a monitorless PC front-end data logger. Conventional products are often used in research and development sites, but they are also used for embedded applications in equipment and control panels."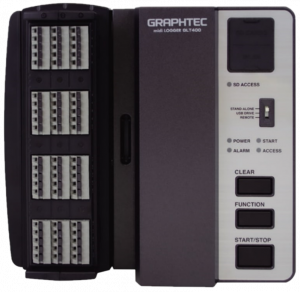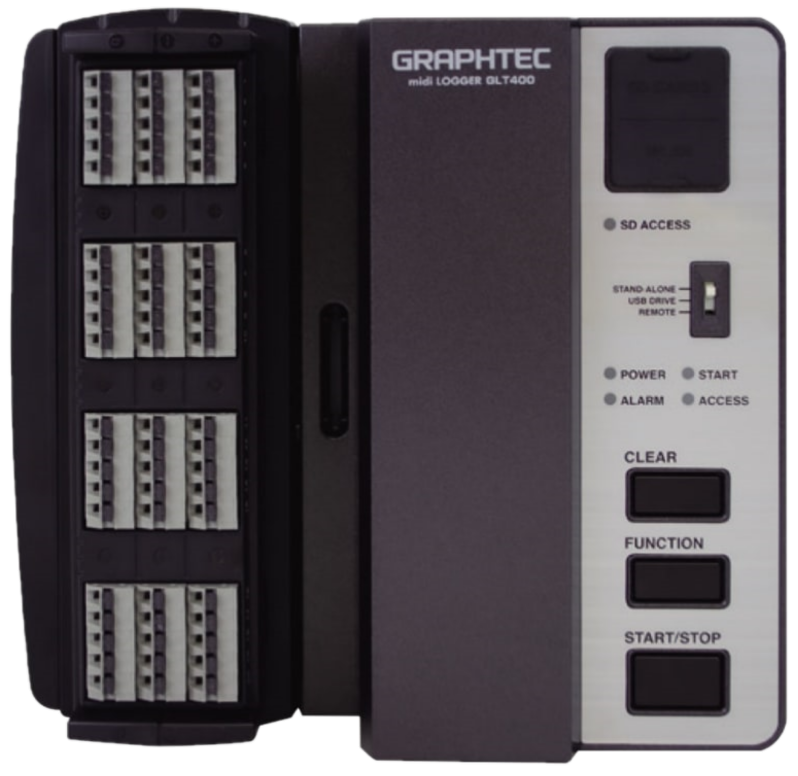 Works Between -20c & + 60c
Remote Location Monitoring
Records Multiple Data Types
Expands Up To 200 Channels

"The GLT400 is a multi-use type that can be used as a data logger for embedding in equipment and control panels, as well as a monitorless PC front-end data logger. Conventional products are often used in research and development sites, but they are also used for embedded applications in equipment and control panels. The GLT400 has realized a new concept that is monitorless and easy to assemble on DIN rails in order to make it more suitable for embedded applications than conventional products.
In addition, compared to our conventional data loggers, the operating environment temperature is greatly enhanced and can be used in environments from -20 °C to +60 °C, so it can be installed in equipment or in a board such as a sealed control panel."
GLT400 Optional Accessories To Enhance Performance
Data Loggers

Graphtec GL840 | Midi Data Logger

Graphtec GB Says
"The Graphtec GL840 Midi Data Logger is available in 2 model formats. The Multi Inputs Model is designed for temperature measurement in multiple channels and the Withstand Voltage Model is designed for stacked high voltage battery application and high precision temperature measurement."

GL840 Key Features:

7″ Wide TFT Colour LCD Screen
Three Types Of Power Source: AC, DC, Battery Pack
Channels: 20 As Standard | Expandable Up To 200
Expandable Memory With SD Cards
All Channels Isolated
Digital Sensor Connection Port
Logic/Pulse Signal Input Port Up To 4 Channels
Records Voltage, Temp, Humidity, Pulse & Logic Signals
Smartphone Remote Access Monitoring Capability
Connectivity: Ethernet | USB | Wireless LAN Capabilities
Compatible With Windows | iOS | Android
Warranty: 3 Years
Contact Us If You Require Further Information On The GLT400
Page Disclaimer
Images are for illustration purposes only.
All details are correct at time of page production.
Product specifications may change without warning.