Standalone Multi-Channel Datalogger

Wireless Measurement Capabilities

Max Sampling Speed: 10ms
"The Graphtec GL240 Midi Data Logger provides the user with versatility and performance without sacrificing accurate, verifiable measurements increase your productivity and save costs."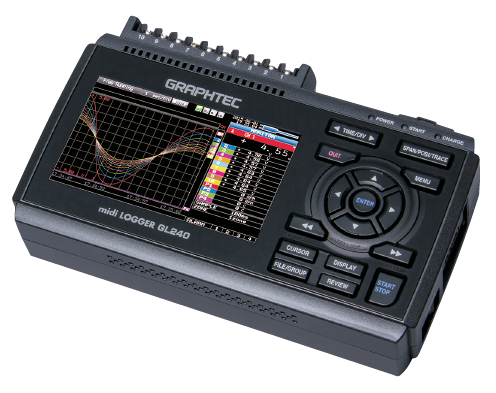 Wireless LAN Capabilities

Graphtec GL240 Midi Datalogger
"The GL240 Midi Datalogger features a compact size which is home to an isolated input system which ensures that signals are not corrupted by inputs to other channels, thus eliminating wiring concerns.
The GL240s multi-type inputs are suitable for voltage, temperature, humidity, pulse, and logic signals, enabling combined measurements of different phenomena like temperature/humidity and voltage."
GL240 Optional Accessories To Enhance Performance
Connection Cables

Graphtec GL Series DC Drive Cable

The B-514 DC drive cable allows any of the GL loggers to be used with a DC source from 8.5 – 24V.

Key Features:

Helps To Power The System For Up To 6 Hours With 2 Batteries
For Graphtec GL Series Data Loggers
Compatible Data Loggers: 2000 | 980 | 900 | 840 | 820 | 240 | 220
Contact Us If You Require Further Information On The GL240
Page Disclaimer
Images are for illustration purposes only.
All details are correct at time of page production.
Product specifications may change without warning.